Today's Daily Devotional from Pastor Andrew Bills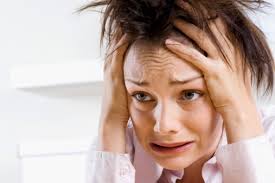 "Are You Stressed Out Because Of Rebellious Or Screwed-Up People In Your Life?"
"When you think that you're just about to win in this rat race, along comes more rats that are faster than you."   
Well stress, heartaches, mental anguish and emotional torment will wreak havoc and leave you shipwrecked….. IF YOU LET IT!
It doesn't matter if the person troubling, worrying or stressing you out is a family member or relative, a co-worker, a neighbor, a fellow student, a friend or even an ex-spouse. The Bible has solutions on how to deal with rebellious or screwed-up people.
Whether it's someone you love or a total stranger, our world is filled with people who will bring great anguish in your life because they think they're smarter than you, can do a better job than you, they're jealous of your position, envious of your talents, they're addicted to drugs, or they are just plain nuts.
Regardless if they're a "pain in your heart or a pain in your butt,"your starting point for obtaining victory or success despite them is through establishing and maintaining a clear vision of who you are in Christ, who Christ is in you and walking in His Authority.
Your situation is not unique.  You don't have to allow others to put you through the wringer.  You can learn how to overcome and even forgive without being trampled on when someone else is working overtime to cause you pain.
Just as a tragedy survivor has to come to grip with their new reality, you too must come to grip with yours in order to have vision and move forward.  You either must make the choice to arise, be filled with a new vision and walk forward or to remain where you are and die.  (And I personally don't recommend dying!)
We too must learn to answer every stressful temptation from rebellious people just like Nehemiah did in Nehemiah 6:3:  "I am doing a great work and I cannot come down. Why should the work stop while I leave it and come down to you?"
Don't allow yourself to be overcome by any foolishness, no matter how urgent, repetitive or malicious.  Know that you're in spiritual warfare and that Jesus said that "the gates of hell cannot prevail against you." (Matthew 16:18)
Nehemiah knew the spirit that he was dealing with from those challenging him and what they were aiming to do.  While he didn't show any open contempt, he refused to relinquish his place, abdicate his God given position and stop doing what he was called to do.
Never step down to the level of your circumstances!  Maintain your course of action.  Keep a good conscience before The Lord and maintain a good reputation before whom you're called to witness. 
Remember, whatever your anguish is the result of, you can learn how to stop, and then proceed by allowing God's Holy Spirit to quiet your soul and flood your mind with His peace through His Word.
Philippians 4: 6-7 says, "Do not be anxious about anything, but in everything, by prayer and petition, with thanksgiving, present your request to God.  And the peace of God, which transcends all understanding, will guard your hearts and your minds in Christ Jesus."  
The greatest source of power is God's Word, but you must connect into Him to be energized and turned on to receive your breakthrough, in the name of Jesus Christ.
THEREFORE, HAVE FAITH IN GOD!