Today's Daily Devotional from Pastor Andrew Bills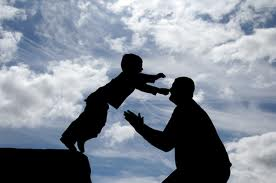 "Do You Really Know Just How Much The Father Loves You?"
We had just returned from visiting and playing with our 2 year old grandson who's a strong bundle of energy and a human dynamo that completely wore us out.
While his language only consisted of words like, "No" or "Mom," he would grab me by my finger and pull me until I would get up and follow him to the piano. There he climbed upon the bench and again pulled on my finger until I sat down next to him. Then he began to "bang away" on the piano keys and try to loudly sing.
Then, I struck one key and began to sing that note until he joined in. With his head tilted back, his eyes brightly shinning and his wonderful smiling face, we then seemed to sing together in almost absolute perfect harmony.
Suddenly, as I looked down into his face, I sensed My Heavenly Father say to my heart, "Just like you love Him, I love you more than you will ever know."
Immediately, I was completely overwhelmed and tears began to rapidly flow as I meditated on those words and continued to gaze down at my grandson. As I was greatly blessed during this moment of revelation, I no longer could sing and began to tightly hug and love on my grandson.
Suddenly, I recalled those dear famous words from John 3:16-17,"For God so loved the world, that he gave his only begotten Son, that whosoever believeth in him should not perish, but have everlasting life. For God sent not his Son into the world to condemn the world, but that the world through him might be saved."
DO YOU UNDERSTAND THE POWER OF HIS LOVE FROM THE CROSS?
Many people don't know, don't care, or don't understand the love that God has for them. But God has your best interests always in His heart and desires to do great and wonderful things in you, through you and by you in this world.
But many shut The Lord out of their lives after breathing His air, drinking His water and enjoying His sunshine, by deceiving themselves by acting as if God doesn't exist, no longer cares, isn't important, or that He's even dead. They just don't care or can't realize what great extent God went to in order to reconcile people back into fellowship with Him.
Salvation may be offered free to us but it surely didn't come cheap. A price greater than any of us will ever understand was paid in order to redeem us out of darkness and sin. Jesus Christ died a very real shameful, horrific and bloody death on that cross, but many live their lives as if they only consider it as just a cute story of fantasy, a fairy tale for children, or an archic fable for the aged just before dying.
But, The Heavenly Father loves you so very much that He has chosen to save you from your sins when you call on Him. He has chosen to hear and answer your prayers when you seek after Him, to be your strength during times of weakness, to be your peace when you're experiencing heart-wrenching struggles and inner conflict, and to anoint you to perform your daily walk and Christian service.  And all of these things plus much more were only provided or given to us through the death and resurrection of His Son, Our Lord and Savior, Jesus Christ.
THEREFORE, HAVE FAITH IN GOD!